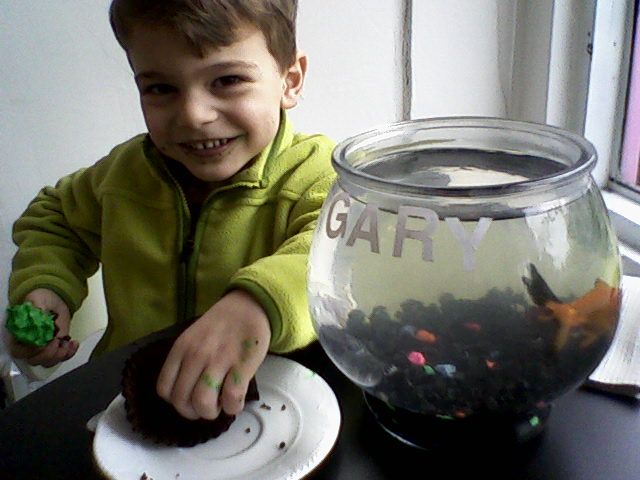 More than a few of us miss Cheeks, the little bakery on Metropolitan Ave where the owner was often grumbled about (some accused her of being surly, but she was always nice to me) and the baked goods, especially the cupcakes, were outstanding. I still miss their lemon tart.
Well, folks, just down the street from Cheeks' old spot (which is now Saltie), there's a brand-spanking-new (ok, 3 weeks old) cupcakery called (what else) Cupcakeland. Junior and I stopped by today on our way home from preschool, and as you can see from the above picture of Harry, his cupcake, and the resident goldfish, Gary, our youthful critic was satisfied.
There's quite a nice assortment of flavors; today's included mint (which is what the boy chose, since it's got bright green frosting and we all know that foods' color is the most important criterion), cookies & cream, strawberry shortcake, white chocolate raspberry, coconut, lemon & raspberry, red velvet, peanut butter, and the basic combinations of chocolate and vanilla.
I gotta say, for as much as I liked Cheeks, I think the cupcake itself is a little better here. I tasted the chocolate base of Harry's cupcake and was blown away. It's moist but not too moist, deeply chocolatey, and not too sweet. The frosting, on the other hand, I didn't love. With the exception of the strawberry shortcake-ish cupcake, which has a whipped cream frosting, all of Cupcakeland's frostings are based on cream cheese. And it's an aggressively tangy version–the mint frosting tasted strongly of mint, cream cheese, and sugar, in that order. Not my cup of tea, but my son, who mainlines cream cheese, was thrilled.
Perhaps I should go back tomorrow: on Wednesdays, Fridays, and Sundays, they've got a dark chocolate cupcake with dark chocolate ganache frosting. That sounds right up my alley.
Cupcakeland
390 Metropolitan Ave, near Havemeyer
Williamsburg