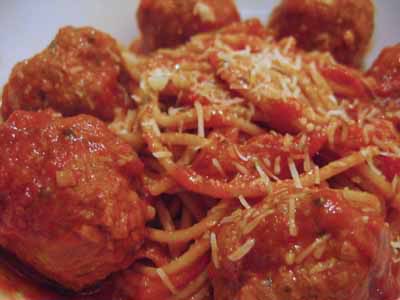 I was a little shocked to discover I hadn't written about this yet—it's one of my favorite makes-a-lot recipes. The original, from Epicurious, serves two. I've tripled the meatball portion of the recipe here, since as long as I'm getting my hands full of turkey-pesto goo I always make enough to freeze for another couple of meals. At some point during the coming weeks I'll get home tired and dither over what to make for dinner, one hand on the delivery menus, until I open the freezer and find that nifty little Ziploc bag of lightly browned, basil-flecked meatballs. Using jarred sauce (yes, sometimes I use jarred sauce—I particularly like Barilla), thirty minutes later (including the wait for the spaghetti water to boil), dinner's on the table.
Weight Watchers readers: Each meatball is about 1 point, and I usually don't eat more than 5 or 6 at a time.
Spaghetti with Turkey-Pesto Meatballs
Adapted from Epicurious
Serves 2-3, with extra meatballs to freeze for 4-6 later servings
2 cups homemade or purchased chunky tomato pasta sauce
1 ½ pounds ground turkey
1 ¼ cups plain dried breadcrumbs
½ cup homemade or purchased pesto
3 egg whites
¾ t. salt
1 lb spaghetti [I use whole wheat]
Preheat oven to 350.
Spread 1 cup pasta sauce over bottom of heavy medium skillet. Mix turkey, breadcrumbs, pesto, egg white and salt in medium bowl—don't overmix or they'll turn to lead. Using moistened hands, form mixture into 50 medium-sized meatballs. Place 16 meatballs in single layer in sauce, and reserve the other 34. Spoon remaining sauce over. Bring to simmer. Cover; reduce heat to medium-low and simmer until meatballs are cooked through, stirring occasionally, about 20 minutes.
Meanwhile, cook pasta in large pot of boiling salted water until just tender but still firm to bite. Drain pasta; divide between bowls. Top with meatballs and sauce.
[Now, you're asking, what about those other 34 meatballs? Here's where that preheated oven comes in. Put a small rack (I use a cookie-cooling rack) on a cookie sheet and lightly coat with non-stick spray. (You can line the cookie sheet with aluminum foil to save on cleanup time later.) Put the reserved meatballs on the rack, and bake for 20-25 minutes, or until lightly browned. Allow to cool fully, then freeze. To reheat, defrost in the microwave (or the fridge, if you have time) and then simmer in a pot of sauce as above. The texture of the baked meatballs will be different from the ones cooked in the sauce—they've got a bit of a crust, which I like quite a bit, and a surprising amount of fat cooks out, which I think makes them denser. The saucy ones are much softer and almost melty.]