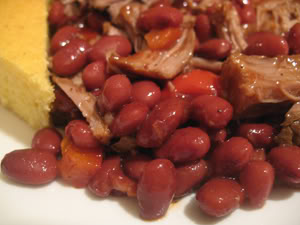 I'd been eyeing this post over at The Paupered Chef for a while—it describes how to cook dried beans quickly (relatively), without soaking. I'm all about saving time these days, so it seemed right up my alley. One morning last week, while Harry was at preschool, I pulled a bag of small red beans from the cabinet and set to work. It didn't take much work, honestly—I followed the directions exactly, but added some chunked carrot, a quartered, unpeeled onion, and some bay leaves. And while it bubbled away in the oven, I set about finding something to do with those beans.
Hmm, beans, red beans, what does one do with red beans… Well, I dunno. But this recipe on Saveur's site, for Rick Bayless's Baked Beans, sounded like a winner: Beans, barbecue sauce, a bell pepper, brown sugar, and Worcestershire. What could be easier? And I thought that the sweetness might even appeal to Pickmeister Harry. Of course, as delicious and satisfying as baked beans are, it seemed a little light for dinner. Which meant I now had to figure out something to go with the damned beans. The answer was obvious (at least to me): Barbecued Brisket. Two problems with that idea: I didn't have a brisket on-hand, and I don't have a smoker to really do it up. The first problem was easily solved with a quick run to the store (where I also picked up some barbecue sauce—I try to keep a batch of The Barefoot Contessa's version in the fridge, but didn't have any that day). And given my current lack of interest in authenticity, you've probably already guessed that I just ignored the second problem completely. I don't have a smoker, but I do have a slow cooker. Not at all a replacement, but I knew it would cook the heck out of the brisket and leave it so tender it would fall apart.
Then came the small matter of a recipe for the brisket. Here, I totally winged it. Into the slow cooker went the meat, topped with equal parts barbecue sauce and apple juice—I had it on-hand, and it seemed like a good idea. Sure enough, it was. That brisket was dee-lish, easily shredded and, yes, even a little smoky. I know, I know, that was due to the barbecue sauce, but I'll take flavor where I can get it these days.
The brisket and baked beans clearly needed a little something more, so I also made some cornbread—it was downright biblical, the way one recipe begat another, which begat another. I wasn't thrilled with the cornbread recipe, though—I'm still searching for a good one. If you've got a recipe you really like, please share it in the comments!
Slow Cooker Barbecued Brisket
Serves 6-8
1 3-4 lb. brisket, trimmed of as much fat as possible
1 cup barbecue sauce*
1 cup apple juice
Put the brisket into the slow cooker—cut it in half if it won't lie flat. Pour the barbecue sauce and apple juice on top, and make sure some of it winds up underneath the meat, too (you're looking for a braise situation, where the meat isn't fully submerged).
Cook on low for 6-8 hours, or on high 4-6 hours. It's done when a fork pierces it easily—if you feel any resistance, let it cook a little longer.
This recipe made enough for sandwiches the next day, and I shredded and froze half the meat, submerged in the cooking sauce.
* A word about store-bought barbecue sauce: Please, I beg you, read the labels. Only buy a sauce with ingredients you recognize and would use in your own kitchen. No chemicals, no preservatives, no high-fructose corn syrup.