"Until the Culinary Institute welcomes breastfeeding moms and toddler toys into the kitchen, this is the best cooking & camaraderie class you'll find in the 5 boroughs. It books FAST." –KidCityNY.com
Brooklyn (and NYC) moms and dads, I am beyond thrilled to announce that my cooking class for new parents, Parents Need to Eat Too, is moving up and out of my apartment. Starting on May 24, I'll be teaching the class at Caribou Baby, an amazing new family-focused store and teaching center on Driggs Avenue in Greenpoint (just two blocks from the playground at McCarren Park). Lucky me, when they built out the space they included a kitchen!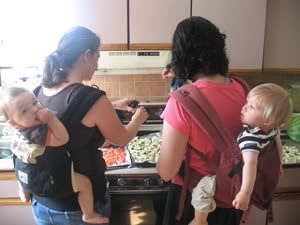 I realize it's been a while since I offered the class, but I've been a little busy. Since I can actually see the finish line of writing the cookbook, it's time to start teaching again. Here's a little explanation of what you can expect:
Now that baby's here, are you living on takeout and jarred pasta sauce? Come learn a new way of cooking, specifically created for new parents! Parents Need to Eat Too, the class that inspired the cookbook, focuses on recipes and techniques that are easy enough for beginners and frazzled new parents—delicious, nutritious meals you can make in stages during junior's naps, or cook quickly from pantry ingredients after you put her to bed. You'll leave each class with that night's dinner and a dozen more recipes to try at home, each of which includes instructions for transforming it into homemade baby food. Along the way you'll learn tips about cooking in general, and meet other parents to compare notes with.
There are three sessions:
The New Mom's Pantry

, in which we'll discuss the staples that make life easier when there's a baby in the house, and prepare a lightning-fast dinner using items from the pantry. Recipes from this class include Quinoa Salad with Chickpeas, Dried Fruit & Almonds, Baked Falafel, and Pasta with Porcini Mushrooms.

The Slow Cooker

, in which you'll learn how to use the new parent's best friend (and don't worry if you don't have one—you'll also learn how to adapt slow cooker recipes to your oven). Recipes from this class include Moroccan Red Lentil Stew, Butternut Squash Risotto, and Balsamic Beef Stew.

Nap Time Cooking

, in which you'll learn to break down more complicated recipes into stages, to be completed while junior naps. Recipes from this class include A Greekish Orzo-Tomato Salad, Braised Chicken Provençal, and Indian-Spiced Black Lentil Stew.
The series of three classes is $200—that includes the food, the lessons, the chitchat, plus three full chapters from Parents Need to Eat Too: 150+ Simple, Healthy Recipes for Sleep-Deprived, Frazzled New Moms & Dads, coming from HarperCollins next year.
Classes meet once a week from 10:30-noon at Caribou Baby, three consecutive Tuesdays starting May 24th. Babies are welcome, of course—the whole point of the class is to learn how to cook while taking care of your baby. Click on over to Caribou Baby to sign up!
Here's what previous students had to say:
"I am an extremely inexperienced cook. . . . You gave me tools that I could work with instead of just a handful of dishes that I could make. I'm incredibly thankful that you gave me this opportunity to learn how to improve my family's diet—and life." –Susan

"First: You are a natural teacher and a gifted recipe inventor. Delightful. All of the recipes just work. Second: You are very realistic and unpretentious when it comes to scale and ambition in your recipes. Bravo—so many parent-oriented cookbook authors are sooooo obnoxious in assuming that every parent has a huge fancy kitchen in the suburbs, time and money to buy all premium ingredients, and of course a kid that takes regularly scheduled 4 hour naps." –Amy

"The class inspired me to cook more often and get over the mentality that I didn't have enough time to cook anything really good. I have definitely become more confident in the kitchen, which was a major goal. . . . Thanks for a great class and helping me to get back into cooking and making better/healthier meals!" –Jenn
I'm really excited about this. I hope you'll join me at Caribou on Tuesday mornings—if you can't commit to the class, at least stop by and say hi!