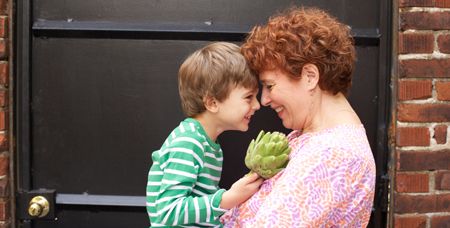 Things look a little different around here, don't they?
After seven years of blogging at Words to Eat By, the time has come for a little reinvention—not of myself, since I've been changing and evolving all this time. Of the blog. See, when I started Words to Eat By I was a publishing-industry burnout turned aspiring food writer, newly married and just starting to try for a baby (in fact, I'd already had a miscarriage, though I didn't share that then). My first tagline announced what I intended the blog to be: Thoughts on Food, Writing, and Everything Else.
But time did what it always does: It changed things. Me, mostly, going from an aspiring food writer to a real-live one, from an aspiring mom to an often frazzled, occasionally very nice mother of a five-year-old. And lucky for me, those two parts of my life have intertwined and combined and resulted in Parents Need to Eat Too, first as a cooking class for new parents, soon as an honest-to-god cookbook, and starting today as a blog.
Since the intersection of food and family has become the focus of this blog—of my career, of my day-to-day—it seemed logical to adjust the site to reflect that. Which is what you're looking at right now. The changes are all visual, with one big exception: Instead of being called Words to Eat By, the site is now Parents Need to Eat Too: Debbie Koenig's Words to Eat By. Makes sense, no? Just to reassure you that yes, you're in the right place, we've kept an artichoke in the header (though it sure looks different than the old one!)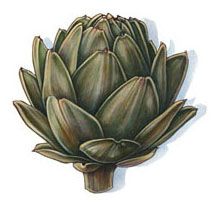 Let's take a quick tour, mkay? Please bear in mind that there may still be some glitches here and there—in fact, if you come across any, please let me know!
Stretching across the very top of the page are what I think of as the Big Deal links: a get-to-know-me page, info on my book, blog archives by date and category, a thorough recipe index (way better than the old one, and still being tweaked as I write this—it's gonna be awesome), clips from my freelance work, the blogroll, and info on the surprisingly numerous ways to contact me.
Swing your attention to the left column, where you'll see a Search button followed by four pretty little tiles—each takes you directly to the recipes in four if-you're-a-parent-you-need-these categories (Nap-Friendly Recipes, Quick Suppers, Pantry Cooking, and Nutritious Nibbles). Beneath them are a handful of other categories you might find interesting. Take your time, browse a little. I'll wait.
OK, back? Moving on to the right side, at the top is (surprise) a big honking picture of Parents Need to Eat Too, the book (coming soon!). At the bottom, a handy listing of my last ten posts. In between you'll find something important to me and you, and the key to that G-word in the title of this post: the subscribe box. Put your email address in that little white space, hit enter, and you'll be sure to receive every new post, straight to your inbox. Or if you'd rather follow me a different way, click the RSS box (the one that kinda looks like a little swooping rainbow) and subscribe via your favorite Reader. The birdie takes you to my Twitter feed, and the "f" goes to Parents Need to Eat Too's Facebook page. (Join me there, even if you subscribe another way! Lots of conversation happens on Facebook that doesn't make it to the blog.)
Already a subscriber? I'm 99% sure you'll keep getting my posts—but just in case, please re-subscribe. It won't hurt, and that way you'll never miss a thing. If you've been reading here more than a few days, you already know you can trust me; I'll never use your info for anything other than the actual subscription.
For a little incentive, I've decided to do something that's pretty unusual for me: a giveaway. Any and all new or re-subscribers may enter to win something I guarantee you nobody else can ever raffle off. Something so exclusive, you'll only find it here on Parents Need to Eat Too. It's not expensive, but if you're the parent of a little one (or more) it's priceless.
Subscribers can enter to win one of three galley copies of Parents Need to Eat Too, the book! Months before anyone else gets to read (and cook from) the book, you might win a galley, just by subscribing to the blog and letting me know. I hate complicated giveaways, so I'll keep it simple:
Subscribe to Parents Need to Eat Too, by email or RSS.
Leave a comment on this post, telling me you've done so. It's fine with me if you'd like to double your chances by subscribing both ways—just leave separate comments. Include your email address (there'll be a space for it when you leave the comment; don't worry, nobody but me will see it) so I can contact you when you win!
Next Tuesday, November 8, at 9PM EST I'll pick a winner via random.org. Winners will have 24 hours to respond with a mailing address or random.org will choose a replacement.
See, that's not hard at all. Go, subscribe, enter, tell your friends. I'll be right here, for at least the next seven years.
—
And now, how's about a round of applause for Ron Doyle, the uber-amazing designer and all-around genius who created this site? He's pretty smashing.