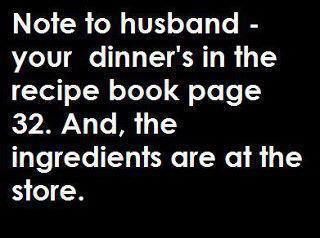 If you're a mom and you're reading this, kindly hand the laptop/phone/iPad/whatever to your significant other.
Now then: Mother's Day is this Sunday. You already know this, I hope. And perhaps you've already got a gift planned, maybe some flowers, that gorgeous statement necklace I've she's been eyeing, a spa day… All that's lovely, and sure to be appreciated, but d'you know what the mother of your child would really cherish? A home-cooked meal that's not cooked by her.
Which is where I come in. Right here, on this very page, is a three-course Mother's Day menu that's guaranteed to put a smile on any mama's face. I know, I know. You've never cooked anything more complicated than toast. And you've certainly never tried to cook with your kids in the room. But you can handle this, I promise.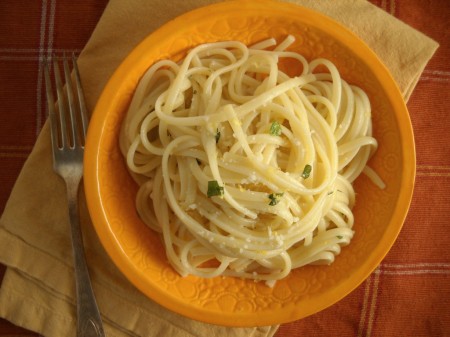 The entrée, Linguine with Pecorino, Lemon, and Mint, is from the chapter of my cookbook called "Un-Recipes, for Partners Who Can't Cook"—that's right, there's an entire chapter devoted to you! The meal's other recipes are equally easy. If you choose the soup for a starter, you'll pick up a knife exactly once—and even then, it's just to roughly chop some mint leaves. Heck, that's so basic your preschooler can do it (with a plastic knife, of course).
I hereby present a Mother's Day Menu fit for a queen, and easy enough to be cooked by a joker—even a joker with a kid or two under foot:
Early Sunday evening, send the mother in question off to take a nap. Give yourself an hour, maybe a bit more if you've really never cooked before, and start with the cookies—they take the longest, since you'll have to preheat the oven. Once they're cooling, turn off the oven and start the soup. And while that's simmering, put on a big pot of salted water for pasta. Set the table while you wait for it to boil (aha! those flowers are handy after all). As soon as the pasta hits the water, set a timer then make the super-quick, no-cook sauce. It's so easy, you should finish before the timer beeps. Drain the linguine, toss it with the sauce, and call mama to the table.
You'll find more great tips in this awesome post, Men Making Meals for Mothers, from Danny over at Simple Bites. After serving his wife, Aimee (who just had another baby!), breakfast in bed, he's doing a Mother's Day pot luck at his own mom's with his seven brothers.
Happy Mother's Day!
Now, would somebody please share the link to that necklace with Stephen?
Linguine with Pecorino, Lemon, and Mint
Serves 4 to 6
One 14.5- to 16-ounce box whole-grain linguine
2 tablespoons olive oil
1/2 cup grated Pecorino cheese [If Pecorino is excessively pricey in your area, a good-quality Parmesan (no green canisters, please) or Grana Padano would also work well.]
Grated zest of 1 lemon [Use a grater with fine holes, and grate the yellow part only—leave the bitter white pith behind.]
Large handful of mint leaves, roughly chopped
Freshly grated pepper, to taste
Put a large pot of salted water on to boil, covered to speed things up.
When the water boils, add the linguine and cook according to package directions. Towards the end of cooking time, scoop out about 1/2 cup of the cooking water (the white foamy stuff is best—it has the most starch) and set aside. Drain the pasta and transfer to a large bowl.
Add the other ingredients and toss. If it seems too dry, add splashes of the reserved cooking water until it reaches a consistency you like.
MAKE BABY FOOD: If your baby's cool with the acidity in lemons, either puree the whole thing or simply cut up the linguine and you're good to go.