BAKE SALE UPDATE November 7: It was a huge success! At PS 84 we raised an astounding $1600, and 110 raised more than $600. Together we're sending well over $2000 to Sandy relief. I'm so proud of our community. More than 50 parents from Williamsburg and Greenpoint got involved, many of whose kids aren't even old enough for school yet. This was much bigger than any one school.
—-
Yesterday some PTA friends and I piled into a car (the only one that had enough gas) and drove to Occupy Sandy's relief hub. Occupy Sandy is an offshoot of Occupy Wall Street, but with no particular politics. It's all about helping hurricane victims, now. No waiting for FEMA or the Red Cross. The people in the hardest-hit areas need help now.
After a standing-room-only volunteer orientation, we were dispatched to Staten Island, where Sandy killed 19 (so far). We were to drive to a church on the relatively unscathed north shore, which had become a clearing house for donations, and shuttle cleaning supplies to a catering hall in New Dorp Beach, a neighborhood that had been devastated. At first, driving through areas that showed minimal damage, it felt like an adventure. PS 84 PTA was representing!
But as we passed through police roadblocks to the heart of the destruction, we all fell silent.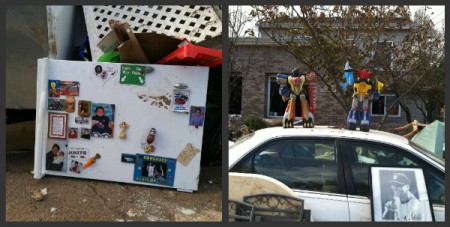 We spent the rest of the afternoon in that one little area, where every single house had been flooded. Further from the water's edge homes showed less exterior destruction, but the piles of debris in front of each testified to the damage we couldn't see. The catering hall-turned-donation-center buzzed with activity, dozens, maybe hundreds of people helping to sort materials and jumping in whenever a cleaning crew was needed. As far as I could tell, nobody was in charge, per se. They were all just helping each other, with no official oversight. At one point I joined a bucket brigade line, clearing a ten-foot mound of mud-encrusted, well, everything into a waiting garbage truck. Later I accompanied my PTA pals on a delivery run, pushing a shopping cart filled with garbage bags, paper towels, water, gloves, and warm socks to folks who kept insisting they wouldn't take much. Someone down the street might need it more.
(You can see all these pictures at full size on Parents Need to Eat Too's Facebook page.)
Amazingly, for as high as the debris was piled, spirits were even higher. All afternoon I saw smiles and laughter; just look at the humor in the picture above. At one point my friends and I stopped to chat with a group who'd taken a break from clearing their home. They offered us chili. I repeat: They offered us chili. Instead we pushed socks and garbage bags on them, and I handed out the last of the granola bars I'd baked the night before.
Baking. Yes, I baked. Of course I did. And I'm baking more today, for a pair of fundraiser bake sales tomorrow, Election Day, in Williamsburg and Greenpoint. For all the work we grownups have been doing, there hasn't been much opportunity to involve our kids, especially the younger ones. I wanted to include Harry, to show him how important it is to help others, so I came up with this scheme and the response has been amazing.
If you're in the area, please stop by PS 84, at Grand & Berry Streets, between 4 and 6:30 tomorrow, or PS 110, at Monitor & Driggs Ave, from 4 to 6. At 84 we'll be in the hallway outside the polling place, at the rear of the school. Every penny we raise at 84 will go to Occupy Sandy, which is doing terrific, on-the-ground grunt work all over New York. Seriously, we saw almost no Red Cross presence yesterday.
If you're not local, I hope you'll consider donating to Occupy Sandy directly. And please, spread the word.
Thank you all, so much.