I try to be humble. Really, I do. But I just got the most wonderful, the most joy-making, the most gratifying email about Parents Need to Eat, Too (the cooking class) and I can't resist sharing:
First off: LOVED the class! Wonderful. I wanted it to go on longer. You are a natural teacher and a gifted recipe inventor. Delightful. All of the recipes just WORK. More than I can say for Nigella or some of the people I own the cookbooks of.

Second: you are very realistic and unpretentious when it comes to scale and ambition in your recipes. Bravo – so many parent-oriented cookbook authors are sooooo obnoxious in assuming that EVERY parent has a huge fancy kitchen in the suburbs , time and money to buy all premium ingredients and of course a kid that takes regularly scheduled 4 hour naps (!)
Not bad, eh? I'm starting to think about the next session now. It'll probably start in mid-September, but there are so many Jewish holidays to juggle and I haven't consulted the calendar yet… If you'd like an email with details when I have them, please leave a comment below or on WTEB's Facebook page.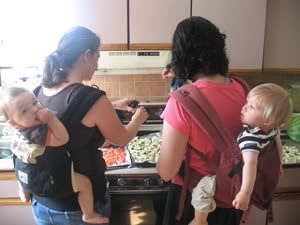 Moms and babies, making Roasted Vegetable Lasagna