I may live in Brooklyn now, and I was born and raised in Westchester, but I'm a Queens girl at heart. More specifically, an Astoria girl. My first New York City apartment was there, and my second, and my third—that last one was home for a dozen years. Considering the fact that my family moved when I was six and I left for college at seventeen, I lived in that apartment longer than I've lived anywhere else. I got married and divorced while at that address, lost 100 pounds there, lived the single life for years there, and finally met and got engaged to Stephen there. It's been almost six years since I moved, and I still miss it. (My youngest brother lives there now, so I still get to visit occasionally. Since he's a guy and a bit of an accumulator of stuff, this does not comfort me much. It is very much his apartment now.)
The thing I miss most about Astoria: the food. Sure, Williamsburg's got some primo restaurants and the Bedford Cheese Shop and the Marlow empire and all that—it's definitely more of a foodie neighborhood—but Astoria has food-food. Ethnic food. Authentic food. Williamsburg's got a handful of old-school Italian places left, and nearby Greenpoint's heavily Polish, but Astoria has a freaking United Nations dining room. Greek, of course, but also Columbian, Mexican, Egyptian, Brazilian, Czech, and Balkan. That last one is what Stephen and I ate last night. Bureks from Djerdan at 34-04 31st Avenue.
I'd taken Harry up to my folks' for the day—his first time at the beach where I spent my early childhood summers—and since it was nearing rush hour when we came home, I took local streets from the Triboro Bridge rather than daring the always-suckful BQE. As I drove south along 31st Street, dodging the support beams for the elevated subway tracks, a sudden craving took hold: Bureks. Boreks. Borekas. Bourekas. However they're spelled, I wanted them. I wanted that slightly greasy, flaky pastry, the oniony potato filling, the barely-spicy ground beef filling, the better-than-spanakopita (because it's less cheesy) spinach-and-cheese filling. A quick left turn onto 31st Avenue, and we were parked outside my Burek source of choice, Djerdan. As it happens, my very first apartment was right around the corner, but Djerdan wasn't there back then. Which is a good thing, because I would've eaten bureks every single night for the year I lived there, and bureks aren't exactly diet food.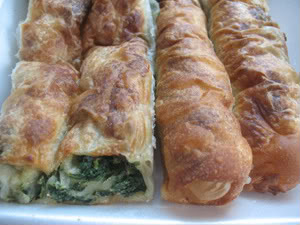 On the left, spinach and cheese. On the right, meat and potato.

The place itself is nothing special, but the bureks, oh the bureks. Imagine a knish crossed with a slightly chewy croissant, and you'll know what I'm talking about. The filling-to-dough ratio is lower than a knish's—these long ones pictured above have dough spiraled around the filling, like an uncut jellyroll. And the meat rolls at the top are long, stuffed tubes wound up like a rattlesnake, which also ups the dough content. This is a very good thing, trust me. Flaky, crispy, chewy, perfectly greasy—they're everything I want in a stuffed dough product.
While Harry sat on the restaurant's floor, "fixing" a display case with his Handy Manny toolbox (an early birthday present from Nana & Grandpa), I surveyed the offerings and picked up the assortment you see here. Later, after Harry went to bed, I heated them in a 350 oven, and Stephen and I stuffed ourselves until we felt like bureks ourselves.
Actually, we were closer to knishes: considerably more filled than necessary.