Archives by date
You are browsing the site archives by date.
By Debbie Koenig on January 31, 2012 | 15 Responses
Did you feel that? The vibration, the way everything's sorta jiggling around the edges? At first I thought I was having some kind of drug flashback (Hi Mom), but then I realized what's behind it: Anticipation. Huge, ridiculous, nearly unbearable anticipation.* Three weeks from today Parents Need to Eat Too, the cookbook that represents the last […]
Posted in My Story | Tagged giveaway, my cookbook, parents need to eat too | 15 Responses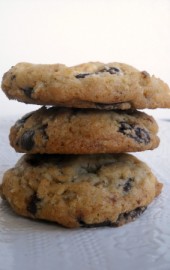 By Debbie Koenig on January 29, 2012 | 3 Responses
When I saw Deb's Potato Chip Cookies on Smitten Kitchen, I knew it was time to share something I've been keeping to myself: Couch Potato Cookies. Take the best homemade chocolate chip cookie recipe in the world and up the ante with salty kettle chip crumbs and crunchy chunks of Dutch pretzel. I know, right? […]
Posted in dessert, snack | Tagged baking, chocolate, cookies, snack | 3 Responses
By Debbie Koenig on January 25, 2012 | 8 Responses
OK, maybe just a few words: IT'S HERE. In my kitchen. And in just four weeks, it can be in your kitchen, too.
Posted in Books, My Story | Tagged my cookbook, parents need to eat too | 8 Responses
By Debbie Koenig on January 24, 2012 | 7 Responses
A food writer without an oven is like a beauty queen without a pageant. A filmmaker without a screen. A politician without an election: You can lay the most spectacular groundwork, but with no way to finish, it's all for naught. Welcome to my life. Halfway through my second batch of these babies, after the […]
Posted in baby food, baking, bread, mains, one-handed meals, Picky, Picky, vegetarian | Tagged baking, herbs, parents need to eat too, pizza, vegs | 7 Responses
By Debbie Koenig on January 19, 2012 | 17 Responses
I loves me some chorizo. Doesn't matter if it's the Spanish kind, scented with smoked paprika and cured (so it needs no additional cooking), or the Mexican kind, which gets its heat from chilies and is typically sold raw. Only problem for this formerly kosher fan: pork. Both versions are piggy. And while I'll eat […]
Posted in baby food, mains, slow cooker | Tagged beans, beef | 17 Responses