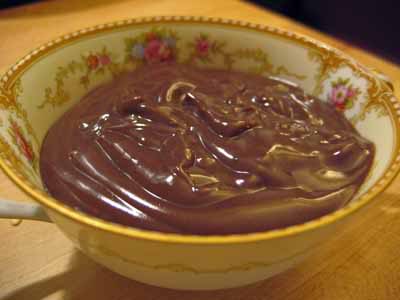 It all started with an innocent thought. S and I were relaxing before dinner, just going over our respective days, when we realized we didn't have enough milk for tomorrow's breakfast. S volunteered to run to the store, and on a whim I asked him to get extra milk—I felt like making pudding. What I meant, of course, was that I felt like opening a box of the Sugar Free Fat Free Cook 'n' Serve Jello powder that was lurking in the pantry—the sugarfreefatfree part makes it a Core food for Weight Watchers. What S heard, however, was My Wife Wants to Cook Pudding from Scratch. His face lit up. And I thought, hell, why not just make it from scratch—how hard could it be? We've got a package of Splenda in the pantry for just such an occasion. A quick perusal of my cookbooks turned up a promising recipe, in Moosewood Restaurant Low-Fat Favorites, one of my Old Reliables. All we needed was the milk. "Get a gallon," I called out as S pulled on his coat.
I am an idiot. A standard pudding recipe calls for two cups of milk. Normally we buy a quart. Why did I tell him to get a gallon? Is cooking math really that hard? I don't think so.
The corner store didn't have gallon containers, so S returned with two half-gallons. I decided to go for broke and double the recipe, blithely thinking that this would use up one of the two plastic jugs of milk. It wasn't until I was pouring away, watching the thin white liquid threaten to overflow my two-quart saucepan, that I realized something was wrong. Very wrong. I hadn't doubled the amount of milk called for; I'd quadrupled it.
So what could I do? I pulled a large soup pot off the pot rack, transferred the milk, etc, into it, and added enough cocoa, Splenda, and cornstarch to match the amount of milk I'd foolishly dumped in. This recipe calls for constant stirring, until the mixture reaches a boil and for another three minutes after that. It takes a loooong time for half a gallon of cold milk to boil. My arm was not happy. But it was worth it: the end result was a half-gallon of quite delicious chocolate pudding, much less sweet and more authentic-tasting than the packaged kind.
Way back in the beginning, when I was only doubling the recipe, I pulled out eight small glass bowls to make single servings—my favorite part of cooked pudding is the skin that forms, and the more surface area you can get, the more skin you get. But when I wound up quadrupling, I had to scramble to find another eight bowls. Nana's china to the rescue! It wasn't until I'd arranged them on the counter, ready to pour in the hot pudding, that it occurred to me we'd have difficulty fitting all those little bowls into our well-stocked fridge.
Thinking fast, I pulled out my trusty soufflé dish. It all fit, as you can see. Though I wouldn't exactly call this a single serving (that's a teaspoon in the photo, to give you a sense of scale), and there's much less skin than I would like…
We'll finish the pudding by the weekend, I guess.
Dark Chocolate Pudding
Adapted from Moosewood Restaurant Low-Fat Favorites
Serves four
3 T. cornstarch
3 T. Splenda (or sugar)
2 T. unsweetened cocoa powder [I used Double-Dutch Dark Cocoa]
2 cups 1% milk
1 t. pure vanilla extract
1 oz. bittersweet chocolate, chopped (optional)
In a saucepan, thoroughly combine the cornstarch, Splenda or sugar, and cocoa. Add the milk and stir until smooth. Cook on medium heat, stirring constantly, until the pudding comes to a boil. Then lower the heat and gently simmer, stirring continuously, for 3 or 4 minutes. Stir in the vanilla and the chocolate, if using, and stir until the chocolate melts. Pour the hot pudding into a serving bowl or individual custard cups, and serve warm or chill for about two hours, until set.